Nationwide Oversized & Supersized Load Delivery
The year was 1971 when McAfee Trucking Company opened it's doors. Bob and Lois McAfee owners of McAfee Trucking Company started with a single truck and a small number of customers. Over 49 years later McAfee Trucking still serves some of those original customers in addition to a wide range of customers nationwide.
Oversize load shipments refer to large item shipments like oversized tanks, jet engines, steel trusses, and generators that exceed the maximum size of traditional load shipments on public roads and highways. Due to special permit requirements, route planning complications and safety concerns traditional shipping companies work with companies like McAfee Trucking to handle Oversized and Supersized loads.
With over 150 years of combined experience in the trucking industry McAfee Trucking Company will deliver your load safely, securely and without incident.

McAfee Trucking is the Exclusive logistics and transportation provider for Tri-State Cold-formed Steel of Shepherdsville, Kentucky.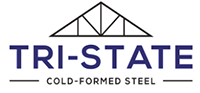 *Our Tank Trailer provides 6" ground clearance to maximize your loads dimensions of up to 14' 6". The Tank Trailer is also equipped with an adjustable gooseneck to raise the trailer over height barriers like speed bumps or other road related hazards.